Actress Kangana Ranaut has been in the headlines for the controversial conversation on Nepotism. It has been months that Kangana and filmmaker Karan Johar are attracting the social media regarding the controversy. Johar has recently made some humorous comments on Nepotism while he was hosting the IIFA awards 2017 in New York.
...Read More
Actor Varun Dhawan also shared the stage with the well-known filmmaker Karan Johar. Varun Dhawan won the Best Actor award in comic role. The actor and filmmaker have been criticised for chanting Nepotism Rocks at the award show. However, while talking to the media, Karan Johar manipulated his words. Meanwhile Varun Dhawan apologised for the same on his Twitter handle. To do the honour, Karan Johar alleged the media that it was his idea at the IIFA awards 2017. Actually with the flow, they went too far as they mentioned about Kangana as well.
Early this year, Karan Johar was in the limelight under the Nepotism controversy. He was accompanied by Rangoon actress Kangana Ranaut.
Since the word Nepotism has been mentioned on the Karan Johar show, it has created a lot of nuisance in the industry.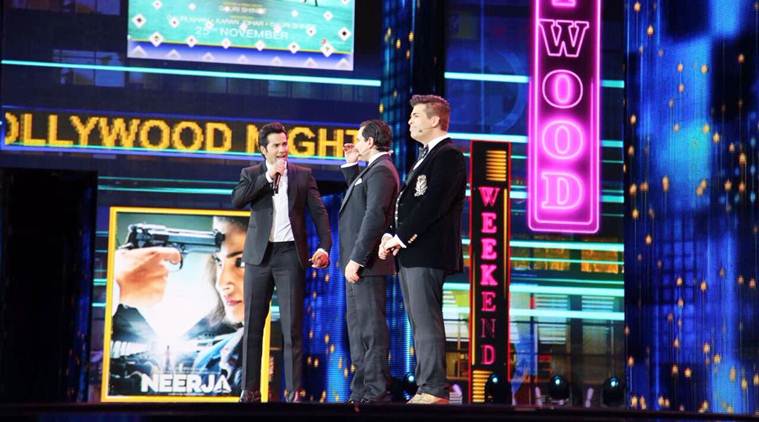 At IIFA awards 2017, which was held last week in New York, Varun Dhawan, Saif Ali Khan and Karan Johar unintentionally took over the Nepotism concept and mentioned Kangana in their joke. Now they have stated in front of the media that it was not intentional. They merely talked about that in a humorous way but it somehow went on the wrong track. They did not aim at hurting anyone. Now, the three who shared the stage last night are apologising for their statement.
The Nepotism Rocks comment is flaunting all over the social networking sites. It feels like the early days of the year are back again.
...Read Less
Similar Article: